Why Hiring a Professional Pet Sitter is Important
Hiring a professional pet sitter has a myriad of benefits. Not only for you, but also for your pets. Depending on your pet, leaving them alone can lead to depression or be dangerous. And even more so, boarding them can make them feel anxious. Every pet is a little different. Here's our professional take on the benefits for you both.
Benefits to Pets When Hiring a Professional Pet Sitter
• Staying at home in their safe environment
• Being in familiar sights, smells and sounds
• Being able to follow their regular routine – eating and exercise
• Getting play time
• Receiving regular attention and love
• Keeping up with medications, if needed
• In case of emergency, someone is there for them
• Removing the trauma of traveling and being in an unfamiliar environment
• Their own health bubble (i.e., eliminating exposure to other animals' illness)
When pet parents consider their pets as true members of the family, these benefits alone are worth the peace of mind. However, there are even more benefits to you.
Benefits to Pet Owners When Hiring a Professional Pet Sitter
As a pet owner, there are several benefits to hiring a professional pet sitter.
• Additional peace of mind knowing that your pet is being loved and cared for
• Knowing that you can rely on your pet sitter tend to other pet-related tasks – such as grooming or vet visits
• Removing the guilt of having to leave your pet in a boarding facility
• Not having to hope that family or friends 'know' what they are doing with your pet
• Knowing that your home is well looked after (and looks occupied) with your sitter going in and out several times a day
Things to Remember About Hiring a Pet Sitter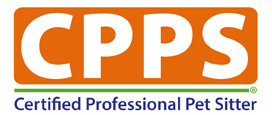 Remember, all pet sitters are not created equal. Also, they are not all actual professionals. It takes time, dedication, certification, and a body of knowledge to become a Certified Professional Pet Sitter. For instance, through Pet Sitters International, we at Posh Paws Pet Care are certified. The exam is for serious pet-sitting professionals. Professionals who understand the importance of established standards of excellence. Certification is for those who are committing to continuing education throughout their careers.
Hiring a professional pet sitter should always involve ensuring that your sitter is a true professional. Most of all, this is important for your peace of mind and your pet's well being.
For more information about this subject or general questions you can contact:
Christi Knight, CPDT with Posh Paws Pet Care, LLC
843.900.0438
Visit our website at PoshPawsPetCareSC.com
Or send us a note from our contact page here.